Pomelo Connector, LLC
Pomelo Connector, LLC was formed to develop, construct and operate 14 miles of 30-inch pipeline and a compressor station in Nueces County, Texas (the "Pomelo Connector Pipeline"). When completed, the Pomelo Connector Pipeline will provide 400,000 Dth/day of firm transportation capacity between Texas Eastern Transmission, LP ("Texas Eastern") and an intrastate header system (the "Nueces Header") to be constructed by Valley Crossing Pipeline, LLC ("Valley Crossing").
ANNOUNCEMENT
Pomelo Connector, LLC (Pomelo) is soliciting proposals for assistance to the Staff of the Federal Energy Regulatory Commission (the Commission or FERC) in preparation of an Environmental Assessment (EA) and related documents and services to address the proposed Pomelo Pipeline Project and Texas Eastern Transmission LP's South Texas Expansion Project (STEP). The EA will cover both the Pomelo Pipeline Project and the STEP. The Commission will need the assistance of a third-party contractor as the lead federal agency for the National Environmental Policy Act (NEPA) process. The Commission's Office of Energy Projects (OEP) will be responsible for providing technical direction to the third-party contractor during the preparation of the EA and related documents. A contract will be executed pursuant to the third-party contracting procedures set forth in 40 CFR 1506.5(c) and as referenced in the Commission's third-party contracting program announced on February 4 and 9, 1994, and as described in the Commission's Handbook for Using Third Party Contractors to Prepare Environmental Documents for Natural Gas Facilities and Hydropower Projects updated in August 2016 (www.ferc.gov/industries/hydropower/enviro/tpc.asp). Pomelo and Texas Eastern have filed separate applications with FERC under Docket No. CP17-26 and Docket Nos. CP15-499-000 and CP15-499-001, respectively.  The RFP can be accessed on Pomelo's website at www.pomeloconnector.com; or Spectra Energy's new projects website at www.spectraenergy.com/Operations/US-Natural-Gas-Operations/New-Projects-US/South-Texas-Expansion-Project/.  The FERC dockets can be accessed at elibrary.ferc.gov/idmws/docket_search.asp.
Persons interested in receiving responses to questions during the RFP process are required to send by January 23, 2017, a Letter of Intent to submit a proposal to Douglas Gibbons, Pomelo's environmental consultant, at Douglas.Gibbons@Mottmac.com.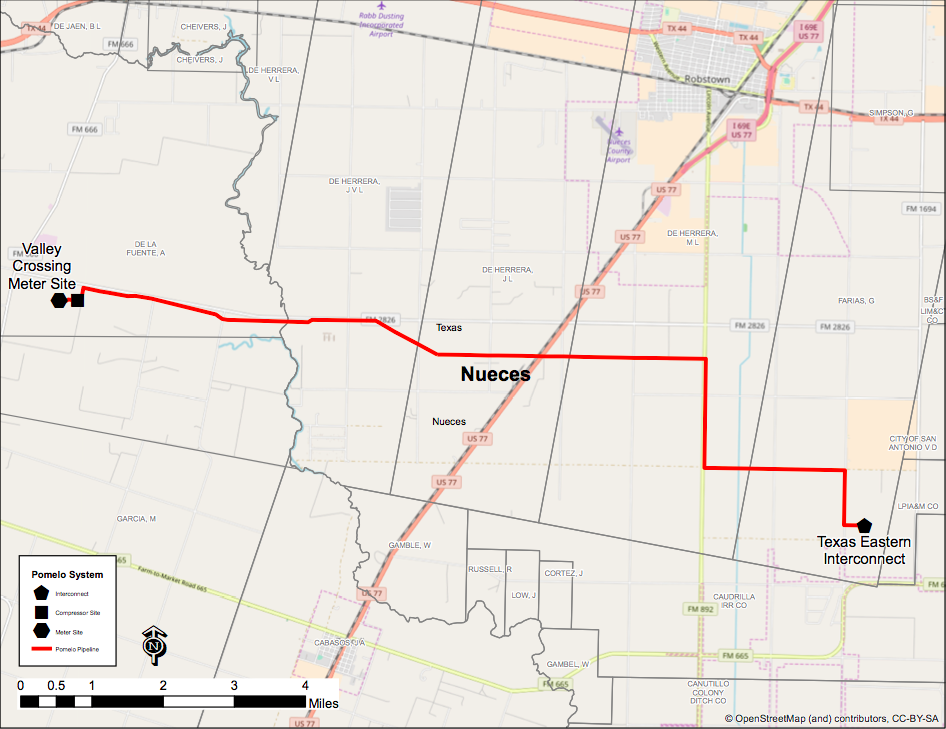 Download PDF